<! -- end posthead -->
If you haven't heard of Google+ (yes, that's the official name, not Google Plus), you will start hearing a lot more about it in the coming weeks. It launched yesterday, and I was lucky
enough to be one of the few in the sandbox ("Field Trial") at this point!  I'm not going to go into all the details of what it includes, as you can read about it on Google's blog. But, essentially, it aims to take real life interactions to the web, more in the manner in which we interact in real life.  It's made up of 4 parts:
Circles

"share what matters, with the people who matter most"
basically a way to group your connections into meaningful "circles"
aka Facebook friend lists, in a more user-friendly way

Sparks

"strike up a conversation, about pretty much anything"
add your interests, and you'll see content that interests you
aka Twitter

Hangouts

"stop by and say hello, face-to-face-to-face"
video chat with up to 10 friends
aka Skype, with more people

Mobile

"share what's around, right now, without any hassle"
location based posts, fast photo upload, group texting
Here's Google's launch video about the "project":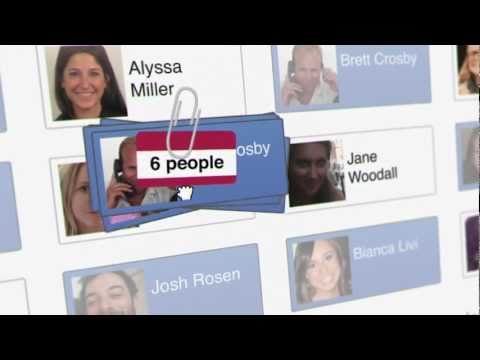 Here are a few thoughts on the specifics of this platform:
Circles is VERY cool — the interface is drag-and-drop is is very user friendly and visual.  MUCH better than Facebook friend lists, as Facebook lists feels like a patch added later, whereas Circles feels like a central part of what Google+ is about.  Circles allows you to very easily share your status updates and content just with certain groups of people.
Hangouts — There's no other video chat platform I know of that allows up to 10 people, so this is GREAT for personal interactions, as well as business meetings for virtual companies.  It's also very cool, because as each person speaks, their video stream becomes the main image.
Google has now integrated a new Google navigation bar that appears at the top of your screen when you are working in any Google product.  It gives you the capability to more easily access Google products.  Very smart!
Sparks – really seems just like Twitter – finding good content in topic that interest you
Adding location to updates – Already a common feature on Twitter, but not yet part of Facebook.  It will be interesting to see if non social-media types will use this feature due to safety concerns
Huddle – doesn't seem to be active on my account yet
Unlike Facebook, this isn't a reciprocal network… you can follow someone who chooses not to follow you
You can share content with people NOT on Google+ — they just receive an email instead — this is BIG, as it will encourage people who like Google+ to use it, although their friends may not be
I'll give it 2 weeks before applications like Hootsuite have Google+ incorporated into their platforms! :-)
UPDATE: I finally have some friends on Google+ so can see more of the features.  What strikes me is how this follows you around the web, if you are a google product user.  This will make a MAJOR difference for this platform, instead of people having to remember to "check facebook" or "check twitter" — it's just there with your notifications everywhere you go.
UPDATE: Invitation feature has been shut down, according to the Sr. VP of Engineering:
Overall
Google's stance is that this is NOT meant to be a competitor to Facebook: "We aren't trying to replace what's currently available, we just want to introduce a new way to connect online with the people that matter to you." (source: SearchEngineLand) and that it's just trying to make using Google products more social, it sure seems like a direct competitor to Facebook.
I can't see myself updating Facebook, Twitter, LinkedIn, and Google+ on a daily basis… eventually you just need to pick 1-2 networks to focus on.  And, while Google+'s features certainly aren't up to snuff yet with Facebook, knowing Google, I have no doubt that major improvements are coming soon.
What do you think of Google+?  Have you had a chance to try it out?  Based on what you've read, do you see yourself using it?